Providing files for CNC production
How to provide the right files for CNC production? You have a part you want to outsource to a turning- and milling company. What do you need to provide? We prefer to receive both a 2D (.PDF) and 3D (.STEP) drawing.
2D drawing
2D drawing as .PDF, with the following information mentioned:
Drawing number
Revision management (really pratical to keep track of your part's revisions, then we can see what has changed and we can save it with the right drawing number)
Projection
Tolerances
Screw thread
Material
Maximum size
Surface roughness
Desired treatments (like anodizing, laser marking, pin engraving)
3D file
3D file as .STEP
We can open the .STEP files in the software TopSolid. If necessary, we can look up additional sizes that weren't mentioned in the 2D drawing. That can save a lot regarding communication and efficiency. A 3D file is not always necessary, it depends on the complexity of the part.
Providing files for laser marking
For laser marking a logo we need;
1. Logo in file extension .dxf
Remark: do not fill the .dxf file yourself, please send us an 'open' logo
2. 2D part drawing (.PDF) with:
The exact position of the logo to be lasered on the part
Filled / unfilled indication

Logo examples
Completely filled logo: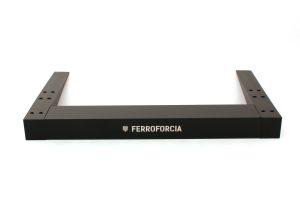 Partly filled logo:
In need of sequential numbers (for example 001, 002, 003 and so on) lasered on your parts, without specific font requirement? That's also possible. Please ask us for the possibilities.